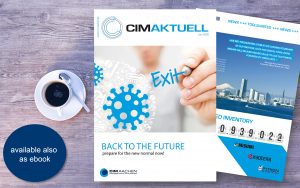 The CORONA pandemic shows how important technology is to make society and the economy more resilient. On the surface, physicians, virologists and epidemiologists are now in charge. However, without statistics, IT in general and web technologies in particular, they will not get anywhere. Data science is in demand, and each of us with our mobile phones as part of the Internet of Things.
A good opportunity to further develop your own digital imagination…join us and CIM Aktuell on a journey "back to the future".
News from CIMSOURCE: The CIM News!