Corona is currently presenting our society with new challenges.
The most important thing is to work together to counteract the spread of the disease and stay healthy! We wish you and your families much strength and above all health during this time!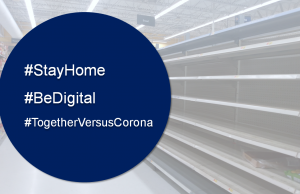 The safety of our customers and all other persons with whom CIMSOURCE comes into contact is of utmost importance to us. The same applies to our employees and business partners.
CIMSOURCE is there for you. The "digital" in our Digital Tool Services is growing in importance. Our team is working at full capacity. Fortunately, we are not yet directly affected by the corona virus, so that we are currently able to complete all customer projects on schedule. Ongoing (customer) discussions are being continued via our digital communication channels. Personal appointments, visits and business trips will not take place until further notice.
Stay optimistic! There is a time during Corona, and there is a time after Corona.
Now we are "during Corona": But we are preparing for the time after. We are planning our protective measures for 6-8 weeks in advance. Currently, the "deadline" is April 30th.
Hopefully soon we'll be "after Corona", when we want to take off. That's why it's also called: looking for opportunities! Perhaps Winston Churchill, as an expert on the darkest hours, will help: "Never let a good crisis go to waste."
How we protect ourselves during this time while maintaining our productivity, what scenarios we plan with and where we see opportunities, you can find out here:
How is CIMSOURCE organized in the Corona crisis?
How does CIMSOURCE see the course of the crisis? A scenario planning.
Where does CIMSOURCE see chances?
During this time, our team will continue to be available to you as usual – by phone, e-mail and, of course, via web session.
With this in mind – stay healthy and have courage – there is also a time after Corona – let's start there together!
We will be at your side.
Dr. Götz Marczinski
CIMSOURCE GmbH