SalesSupport Server – Vendor Managed Product Data #EMO2023
Clean. Data. Delivered.
The benefits of Vendor Managed Inventory* (VMI) are undisputed. Why not impress your customers with the same kind of service for the digital factory?
All you need is a "warehouse" for the product data and a "shipping area" with a "pick and package" – line to prepare and deliver the required data packages.
The SalesSupport Server "3S" is just that. your distribution center for the digital world! Awesome!
As a central information hub, 3S helps you to consolidate product information from various data sources into a single database. 3S puts you in the position to package and ship tool data to your customers via all conceivable information channels.
True to the term "vendor managed" , you, the tool supplier, are always in control of your data. You communicate directly with your customers. Your product data is and remains your IP at all times. 3S monitors which company received which information. 3S tracks who searched and downloaded your data.
Long story short: 3S puts the technologies of ToolsUnited into your hands. At the same time all data-intermediares like www.toolsunited.com or any other platform are taken out of the loop.
*Fun Fact:
To our knowledge VMI for cutting tools was first applied in 1996 at Mercedes-Benz, Stuttgart-Untertürkheim. Read the background story.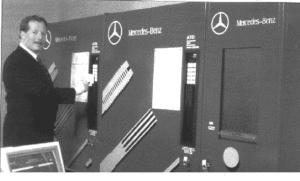 CHAPTER 8 | CIMSOURCE? Awesome!