EMO 2019 is over and we're back at work.
Our experience changes: the problem of tooldata exchange has arrived in the consciousness – and we deliver the solutions!
Thanks a lot to our Team – you did a great job!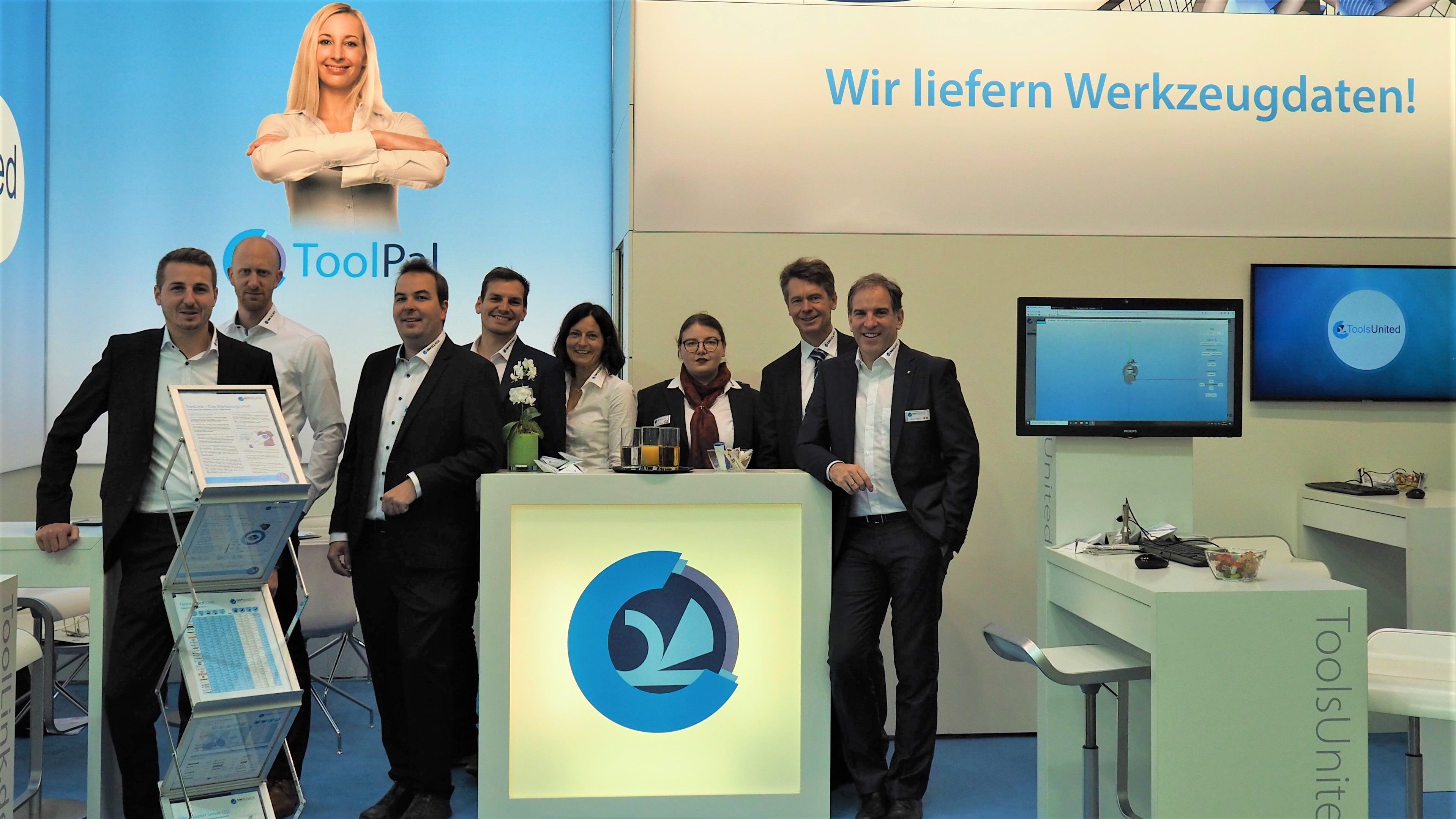 ToolsUnited Content: Inovatools new, Nikken updated
we are happy to announce Inovatools as ToolsUnited Partner. Inovatools offers a comprehensive range of drills, cutters and saw blades, of which 651 are already available on ToolsUnited, more will follow soon.
In addition, all 1038 tool holders and collets from Nikken were improved.
Additionally, new 3D models generated by ToolsUnited are now available. The models for numerous tool classes have been improved and new models for concave rounded profile end mills and for bodys for insertable drill heads have been added.
The AMB 2018 was once again a complete success for CIMSOURCE. With the position at the east entrance, the booth was well visited throughout. We would like to thank our partner Seco for the great cooperation and the opportunity to present our solutions and know-how at their booth.
We are glad to experience, that the topic tool data exchange gains more and more importance and arrived also in medium-size enterprises.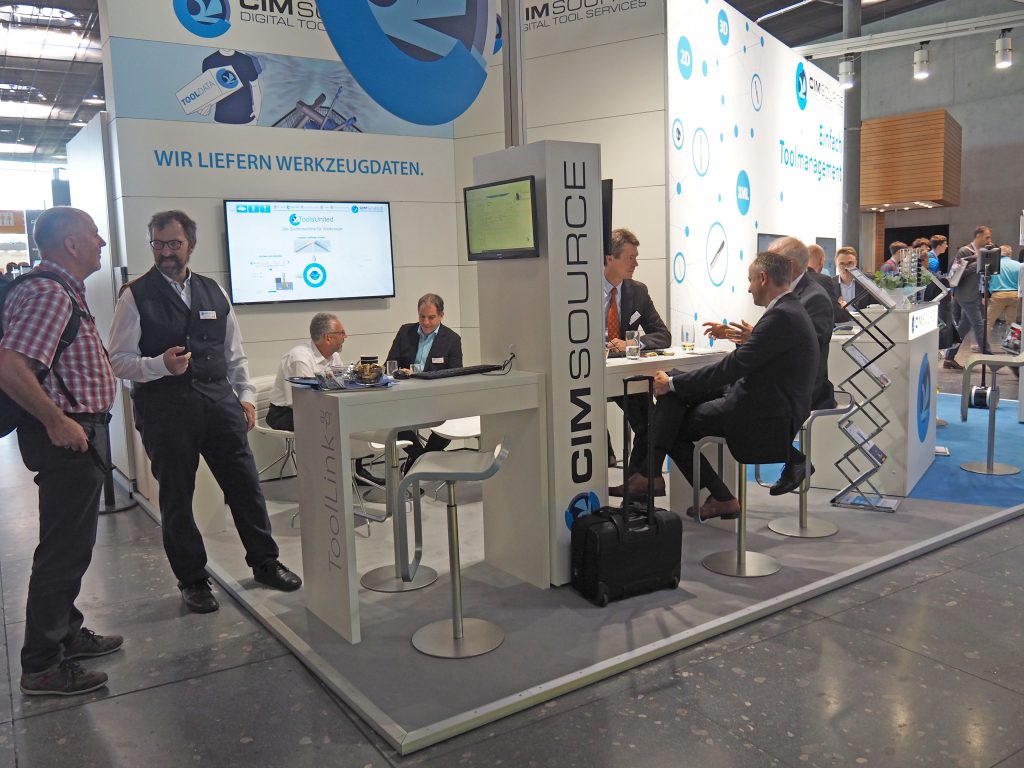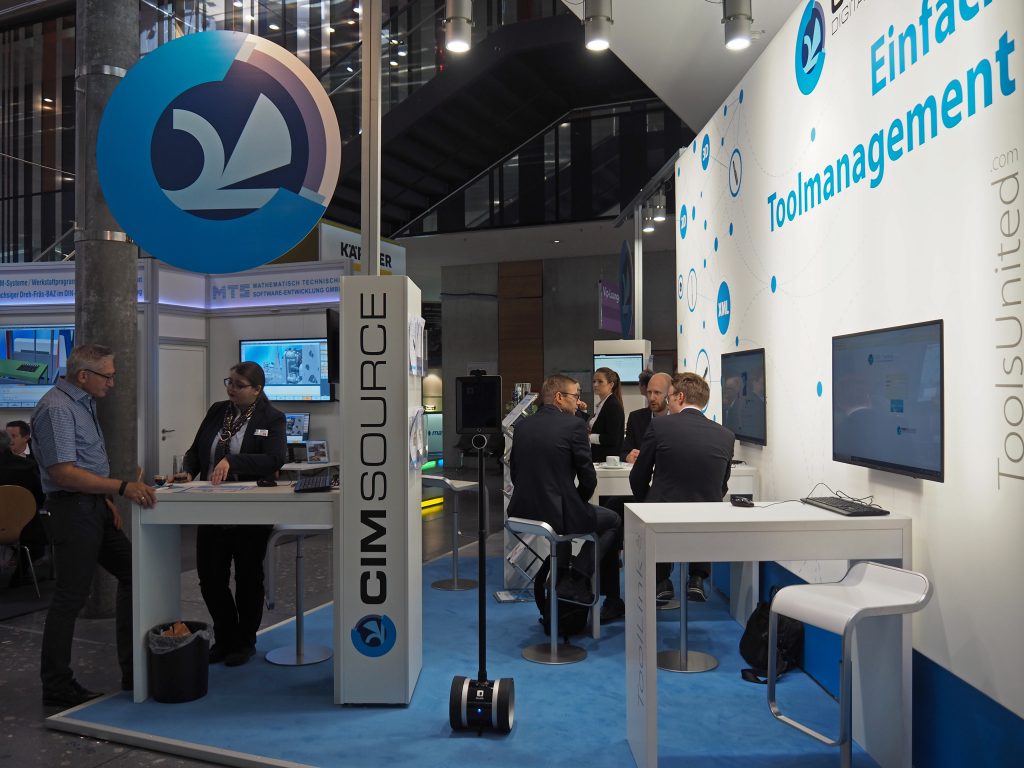 ToolsUnited content: WNT, Fraisa and CeramTec updated
Shortly before the summer break, the CIMSOURCE Content Team has carried out an update. In intensive cooperation with WNT, the existing tool stock has been updated and expanded by 4,000 tools to 54,643 taps, drills, drill heads, turning holders, milling cutters, tool holders, collets, reaming tools, cutting bodies and inserts. CeramTec's range has been optimized and expanded by 1,100 data sets to 6,603 toolholders and inserts. Finally, the Fraisa data was revised and extended by 100 tools to 4,776 milling cutters.
In addition to the data extension, the 3D generator has been revised. The flexibility of the insert selection has been increased for all indexable tools.
13./14.06.2018: Sumitomo Technology Days.
SUMITOMO's European Design and Engineering Center (E-DEC) was host to approx. 100 tooling experts. CIMSOURCE contributed the presentation "Digitization of the cutting tool industry" to the conference program and presented the latest version of ToolsUnited and the related data sourcing portal "ToolLink" during the exhibition.

ToolsUnited content: Saratools new, Ingersoll updated
we are happy to announce SARATOOLS as ToolsUnited Partner. SARATOOLS offers a comprehensive range of taps, drills, cartridges, mills, holders and reaming tools. 14,203 items are already available on ToolsUnited. Check it out!
Furthermore the CIMSOURCE Content Team and Ingersoll added 3,786 new items to the Ingersoll content of 17,488 tools.
ToolsUnited Content: OSG und ZCC updated
In intensive cooperation with OSG, the CIMSOURCE Content Team has expanded the database of taps, drills, drill heads, milling cutters, tool holders, reaming tools and inserts to 18,348 tools.
Moreover in close cooperation with ZCC-CT, the database of taps, drills, clamping holders, milling cutters, concept and ISO inserts, tool holders and reaming tools was expanded to 16,323 tools.
In addition to the data update, the generated 3D models of the indexable insert drills and the end mills were extended. Countersinks with indexable inserts can now also be 3D-generated with guide pads. Moreover collet chucks can now be generated in 3D.
ToolsUnited Content: Iscar und Nikken updated
ToolsUnited content: EMUGE new, LMT – Fette updated
we are happy to announce EMUGE-FRANKEN as ToolsUnited Partner. EMUGE-FRANKEN offers a comprehensive range of taps, drills and mills. More than 35,774 items of these german made premium products are already available on ToolsUnited. Check it out!
Furthermore the CIMSOURCE Content Team and 
LMT – Fette
updated or added 3,500 items to the LMT – Fette content of 20,674 tools.
ToolsUnited February update
There are tool data updates for the following manufacturers:
Mitsubishi
WNT
As a new manufacturer we would like to welcome FRAISA:
FRAISA offers a comprehensive range of metal cutting tools: milling tools, drills, taps, indexable inserts and many more. Our products are characterised by high performance, precision and quality – at an excellent price/performance ratio.
Moreover ToolsUnited has now a detailed export overview for your account:
ToolsUnited January Update
We have just released a new version of ToolsUnited. It includes a lot of optimization in usage and workflows and also contains several data updates including the following manufacturers: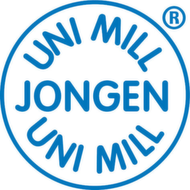 Moreover as a new manufacturer we welcome Wohlhaupter:

Wohlhaupter enables highly efficient and economical precision boring in every dimension: Innovative tool solutions that are individually adapted to suit diverse, complex requirements and changing tasks.
Interface to TopSolid now available
Good news for all TopSolid customers! From now on, tool data no longer have to be typed or laboriously downloaded and converted by every individual tool manufacturer. With the new ToolsUnited interface, users now have access to more than 800,000 tool data records from the leading tool providers in one database.
Again, a new tool manufacturer was won for the ToolsUnited platform. Since the beginning of this year, Nikken has been stepping up the field toolholders. The number of listed records will be gradually increased in the coming months.
WNT is now available on ToolsUnited
Since today, users have access to the full range of tool records from WNT on ToolUnited. Numerous data sets are already 3D capable. The missing parameters for the generation of further 3D graphics will be processed gradually in the next time.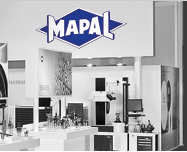 At this year Mapal dialogue days CIMSOURCE will be present with a booth. Visit us on the 16th+ 17th June 2015 in Aalen and let us present the latest developments from CIMSOURCE.


CIMSOURCE on the south Turning Days 2015 – From the 9th-11th June 2015 you will find us in Hall 4 of the Dortmund Westfalenhallen.
Interface to Siemens Teamcenter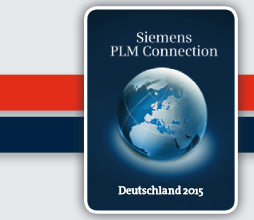 On 5 + 6 May 2015 CIMSOURCE introduces the new interface to Siemens Teamcenter at PLM Connection in Seeheim-Jugenheim. ToolsUnited Direkt is called the new connection which can be used for loading tool data incl. Graphics directly into Teamcenter MRL.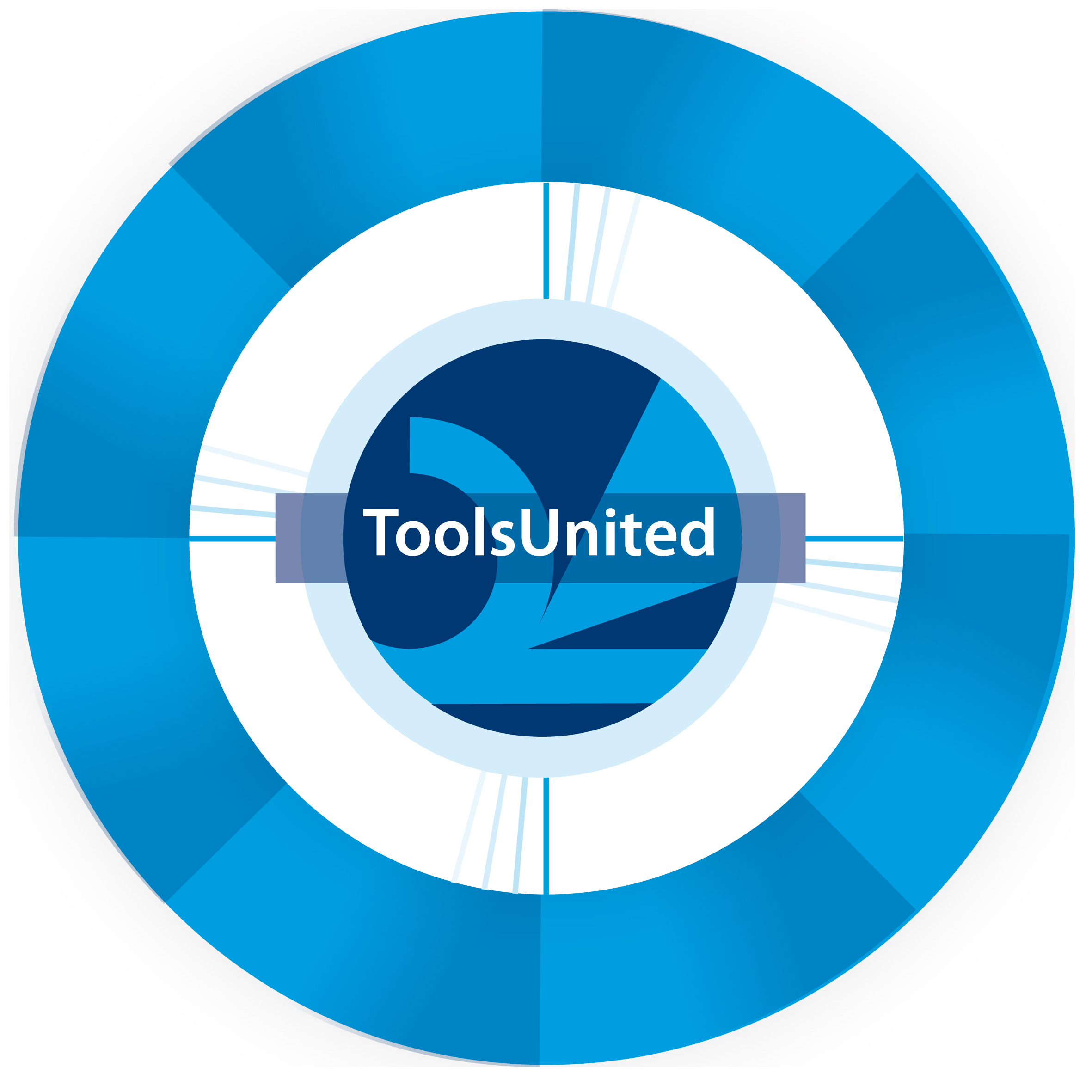 A new version of ToolsUnited has been released. With ToolsUnited 2015-1 users will now have access to more than 615.000 data records and updates from companies such as Sandvik, Hoffmann, Korloy, Paul Horn, Mitsubishi and many more. On top of that, the updated version entails new features such as an Interface-Crawler that directly downloads usage recommendations on part of the manufacturer, as well as a Contour Line-Editor enabling the compilation of graphics.
Have a try on www.toolsunited.com
Tool Management Seminar 2015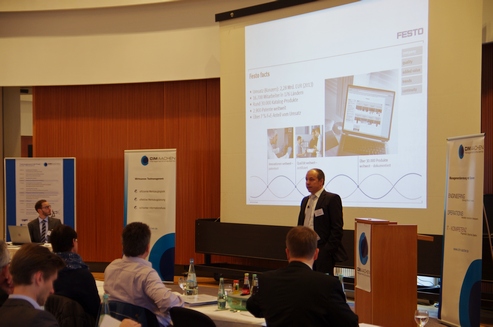 Also at this year's Tool Management Seminar in Ulm CIMSOURCE was traditionally represented with a booth. Among the presentations this year was also a user report by Festo, has introduced the new Tool Link from CIMSOURCE.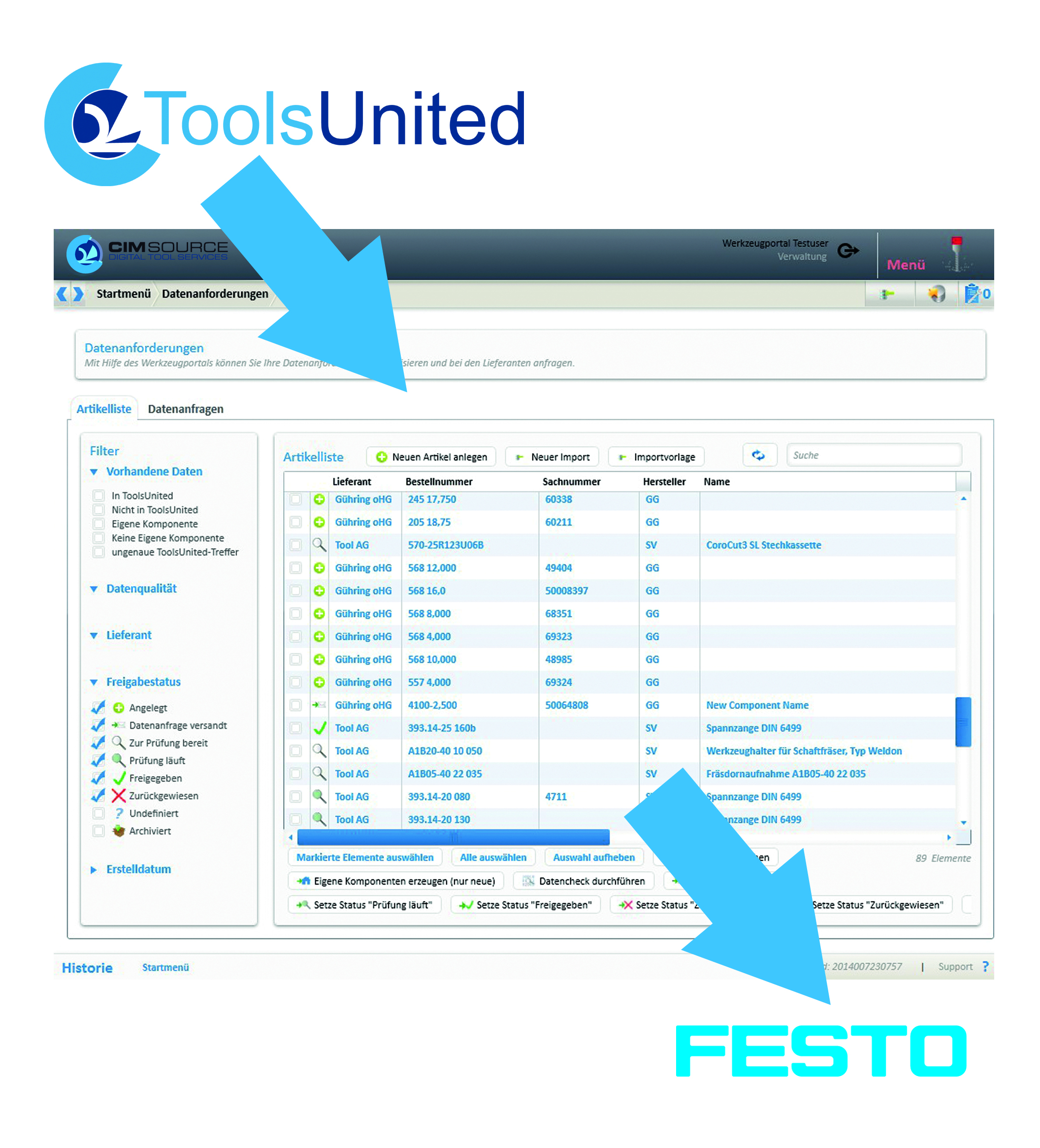 Information about ToolsUnited and related services regarding tool data will be provided at the AMB 2014. You will find us in exhibition hall 4, stand 4A37.
From Thursday, September 18 to Friday, September 19 (in the afternoon) you will thus be able to learn how to collect tool data from suppliers and transfer these directly into your Toolmanagementsystem.
In addition, Mr. Merche from Festo AG & Co. KG will demonstrate a specific case of option providing you with the opportunity to ask questions afterwards. To learn more, also visit https://www.cimsource.com/images/ToolLink_Festo.pdf.
Tool Management Seminar 2014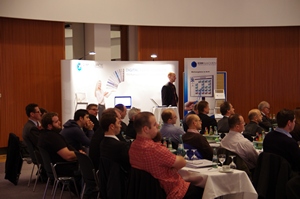 CIMSOURCE to support the Toolmanagement Seminar in Ulm. 70 participants learned first hand the benefits of professional toolmanagement. During the breaks CIMSOURCE presented live the new interface to Zoller, which together with the new features to build tool assemblies have been the highlights. Further to that CIMSOURCE tool identification with its attractive price point raised interest.
CIMSOURCE will be at AMB 2014

CIMSOURCE will be at AMB Show 2014 in Stuttgart. Witness the release of new features and achievements at this top event. Get first hand answers as how to operate Toolmanagement in the Cloud and how to integrate ToolsUnited into your CAD/CAM environment.
New ToolsUnited Version 2014-1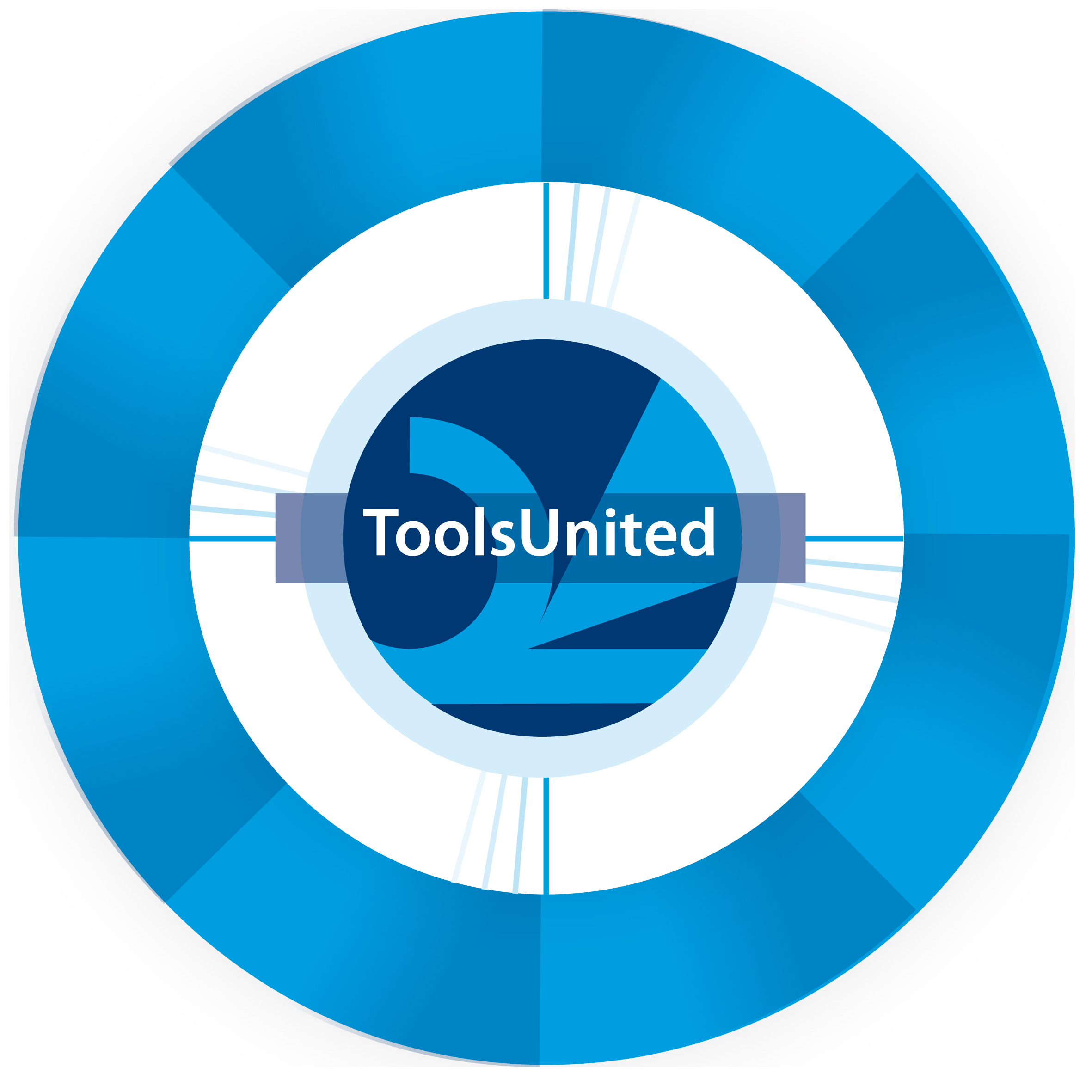 The version 2014-1 of ToolsUnited has been released. Now you will find approx. 10.000 new data records, 30.000 additional 3D models (mainly from Sandvik) and the new classification schemes according to ISO and GTC. On top of that up-dated data from Mitsubishi, Hoffmann, Paul Horn, Hitachi, Iscar, Sumitomo, Tungaloy and Walter are part of this new version.
Update of the TDM-Interface


The TDM-interface has been renewed. Data may now directly be exported from ToolsUnited into TMD versions 4.41, 4.5 und 4.6.
Update of the Zoller Interface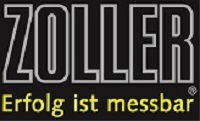 The interface of ToolsUnited to Zoller has been renewed. Data may now be transfered via WebService directly from ToolsUnited into the Zoller application. This includes geometric informationen as well as 2D/3D graphics.