With the exception of a small core team at our headquarters in Aachen, our employees are working remote from home. The main communication medium is Microsoft Teams. Customer contacts are also served via teams or our "WebMeeting" channels Webex and ZOOM.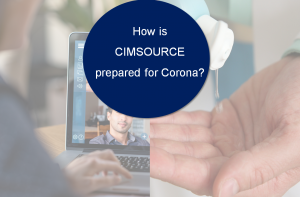 In our head office in Germany there are available:
Hotline and support as usual.
Headquarters to provide information if necessary.
Accounting for questions about invoices etc.
Team "Onboarding" for questions about current Supply Side Services
Management
Due to the greatly reduced team at our office, it is possible for us to reduce personal contacts to almost to "zero". Except for the central entrance door of our office building, there are no jointly used rooms / facilities. Various hygiene and protective measures are in force. For example, every employee will disinfect his workplace before starting work and at the end of the working day.
Guidelines for the daily activities of all CIMSOURCE employees:
Everyone bears responsibility for others and needs to avoid the risk of infecting others.
Official instructions are to be followed. When in doubt, we do not wait until something is prohibited.
We hope for mild progressions, but we do not "bet" on them. For our entire team the following applies: Do not push your luck!
Priority: Everyone with his family/partners unharmed through this phase!
As a team we will stay actively in contact! For this purpose we have upgraded our virtual communication media.
How is CIMSOURCE prepared for Corona?